Creating, Connecting & Celebrating Since 2001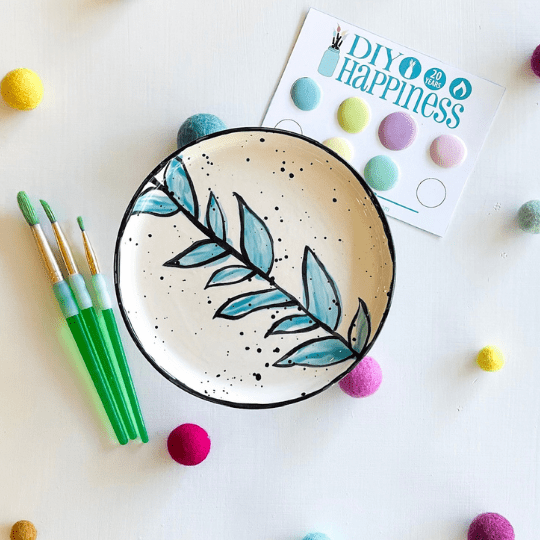 Paint pottery
Select your piece to paint.
This is sometimes the hardest part because there are so many pieces to choose from. We can't help ourselves when it comes to ordering – so there is a great selection of home décor, dinnerware, mugs, kid-friendly pieces and so much more. Prices range from $17 – $70+ and we are an all inclusive studio, which means the price of each piece includes the pottery, supplies and kiln firing.
Design & paint something fabulous!
This part is soooo easy & you don't need to be an artist – we promise! We'll teach you the basics to get you started and there are oodles of easy-to-do tips, tricks & techniques to help you along the creative journey. We have tape, stickers, stencils and silk screens for easy fun.
Leave your piece for kiln firing.
Plus, we'll clean up the mess! How cool is that? We hand-glaze each piece & fire it in-house, this is the behind-the-scenes magic. Pieces are food-safe, lead-free and will be ready for pick up in about 7 days.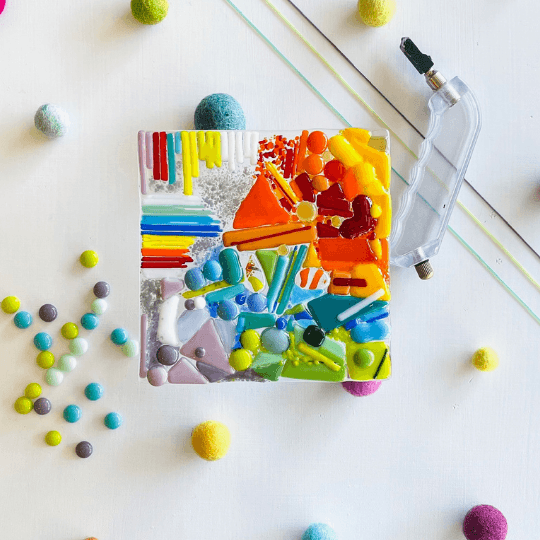 Fuse Glass
Select your glass base.
This is the size and color of your first layer of glass. Just about everything is built on a base and pieces are priced according to their base size. We have 6″, 8″, and 10″ squares and 6″ x 12″ and 8″ x 2″ rectangle bases.  Prices start around $30 + tax. 
Decorate the glass base.
This is where the fun begins and it's contagious!  We will show you how to nip, zip (score), and break glass. We have several colors of glass and a huge variety of shapes from pre-cut bits, jelly beans & buttons, buffalo chips, strips, stringers, noodles, rods, frit and gems. Overwhelmed yet? Don't be! With just one visit, you will be hooked, familiar with the lingo, and an awesome glass fusing artist.
Leave your piece for kiln firing.
When you're done, leave everything and we'll clean up! Can you believe how cool "warm" glass can be? Your glass will be fired in-house and will be ready for pick up in about 14 days.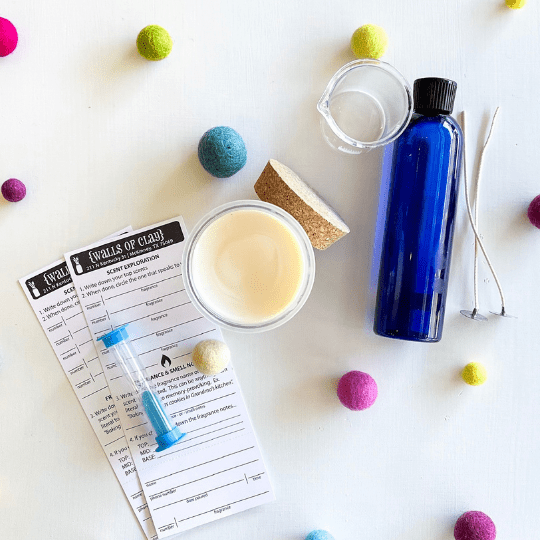 Pour Candles
Select your vessel and scent.
We have a variety of vessels to choose from and the most amazing scents made from high-quality fragrance oils.  Choose from everyday scents like "a day at the spa", "fresh linen" or seasonal scents like "cypress bayberry".  Our seasonal scents rotate quarterly.  Feeling a bit adventurous?  Combine oils to make your unique blend.
Weigh, measure, and mix.
Here's the fun – perhaps in a nerdy, scientific way!  Candle making is a formula as far as the wick, wax and oil combo is concerned. But we've broken it down into a few simple steps.  Set your wick, weigh the fragrance oil and wax according to the chart, combine and stir for melted goodness.
Candles are ready to go in 60 minutes.
After blending, let your candle sit for about 60 minutes and it's ready to go.  Our candles make the perfect make-and-take project for last minute gifts since they are ready to go the same day, unlike pottery and glass.
Create in studio
RESERVE. Make an online reservation for groups of 3 or more makers. If you have only 1 or 2 makers, you are welcome to walk-in or call ahead. Table reservations are for two hours.
WALK-IN. Walk-in are always welcome. If we do not have any open tables, we are happy to add your group to a waitlist. First come, first served.  Tables are available for two hours.
CALL AHEAD. Call before you are headed to downtown McKinney. If there is a table available, we can hold it for 15 minutes. If there are no tables available, we will add your name to a waitlist.
our studio
Walls of Clay, located in historic downtown McKinney, TX since 2001, is a paint your own pottery studio & more.  Family-owned by a mother-daughter team, Jenn and Georgia are always striving to create "a happy place" for those who want to create, connect, and celebrate. No experience is needed and all ages are welcome – we are here to help you create.
Walls of Clay offers:
Pottery and stoneware painting
Glass fusing
Candle pouring
party time
"It's a party now!" "The more the merrier!" "Lettuce turnip the beet!" Get the picture yet? We LOVE a reason for a creative get together (oh and a pun or two doesn't hurt either). Walls of Clay offers a variety of packages perfect for ages 5 – tweens & teens. Whether it's a birthday celebration, team spirit event, Girl Scout badge/patch party…it doesn't matter, we just need your creative spirit and we'll supply the rest. And GROWN-UPS have just as much (if not more) fun than our pint-sized creators! Your group can gather before or after studio hours or hold a semi-private event in our party room during studio hours.
GIVE THE GIFT OF CREATIVITY!
Happy Birthday! Congratulations! Job Well Done! Welcome to the Neighborhood! Bunco Queen! Bride & Groom! New Parents! Date Night! Oh, so many reasons to celebrate!
Give the gift of creativity and time well spent relaxing, crafting, and escaping everyday life for a few hours.
For a PHYSICAL GIFT CARD, please visit our studio during regular hours. For a DIGITAL GIFT CARD, click below.

Walls of Clay has been a staple for our family for the past 6 years. Our daughter always looks forward to their awesome summer camps, creating on days off of school and making personalized gifts for family and friends. The staff always does an awesome job making everyone feel welcome and does a great job helping to get your creative minds working! We also highly recommend their birthday parties! -Devin R.

WE can't say enough about our FAVORITE place in McKinney!!  WALLS OF CLAY!! Aubrey & I have been going to Wall of Clay since Aubrey was 6yrs old, now 17. We have always loved the staff (especially Jenn, Georgia, and Austin) and the selection of goodies to paint.  Aubrey loved/loves the Kid Camps and classes. I love the Glass Fusion classes, as well as just doing a piece to destress. We would always make a day for WoC when we would come visit Texas.  Looking forward to our next visit soon. -Deanna & Aubrey G.

What I like about Walls of Clay is the good selection of crafts to do. I also like the excellent service and help I get." – Lily R., age 11

Walls of Clay is my go-to for gifts and family fun. I went there as a teenager and now bring my own littles, carrying on the tradition! -Wendy B.