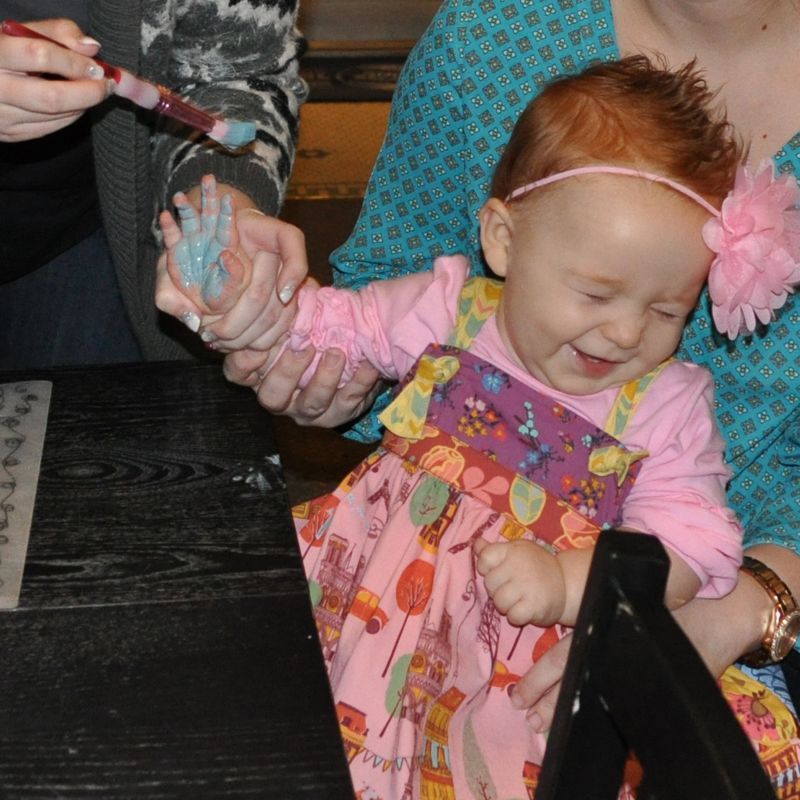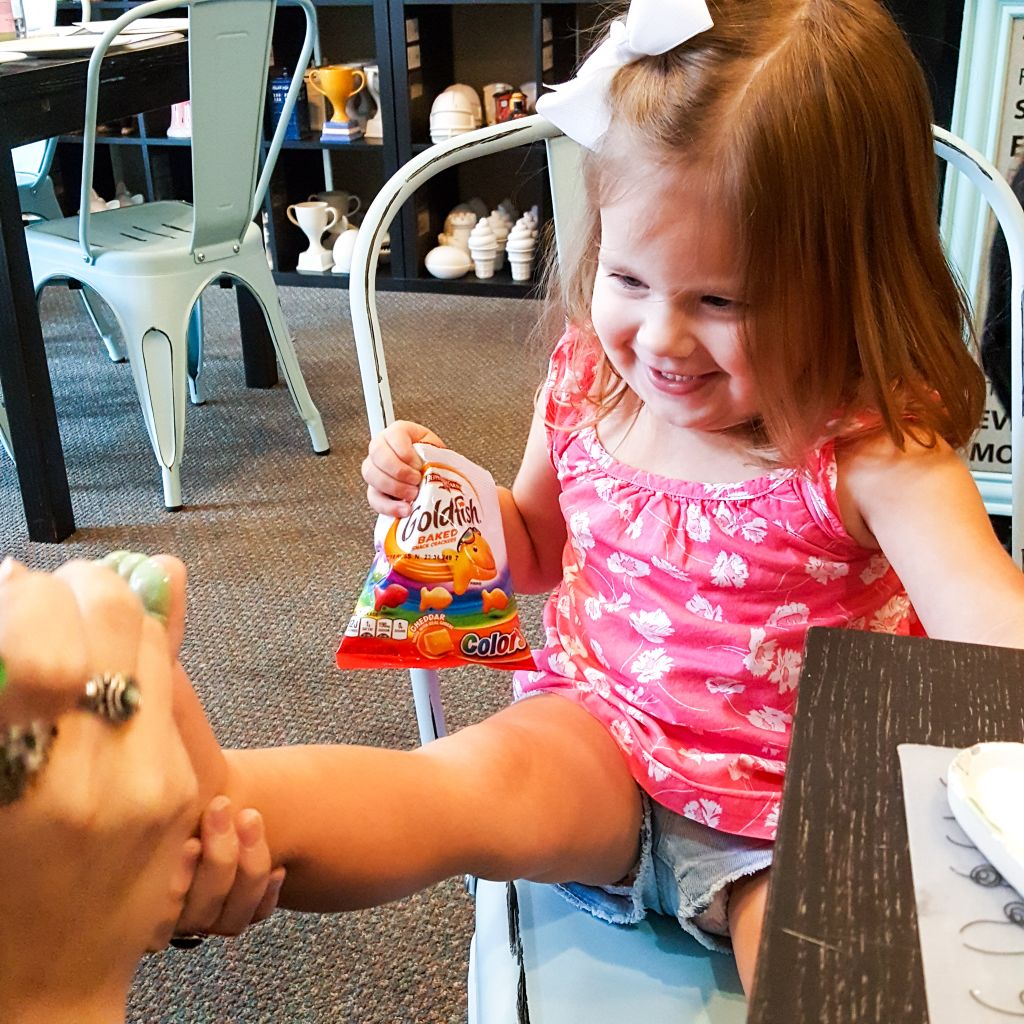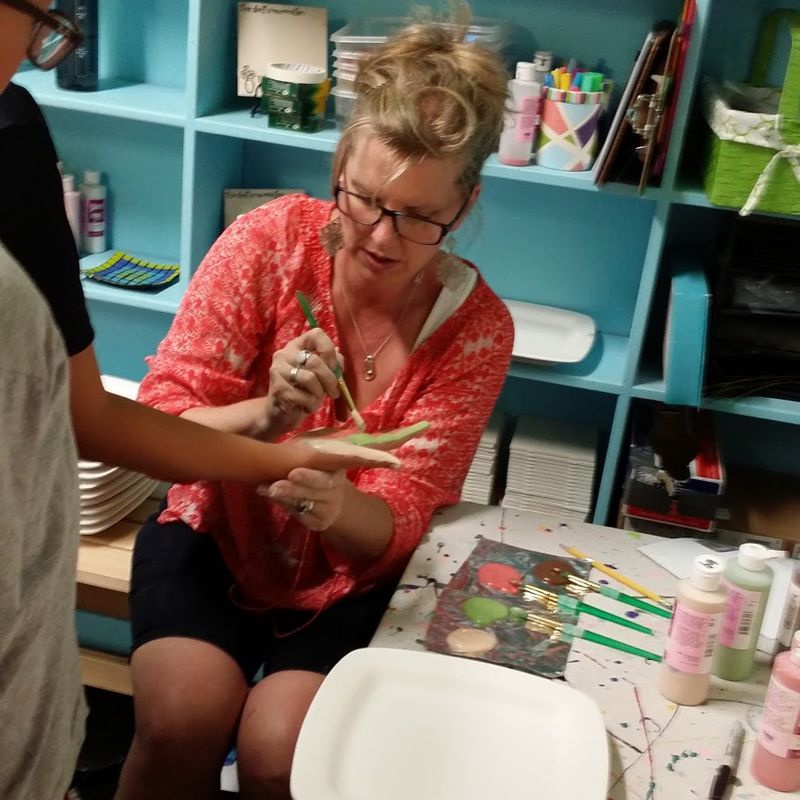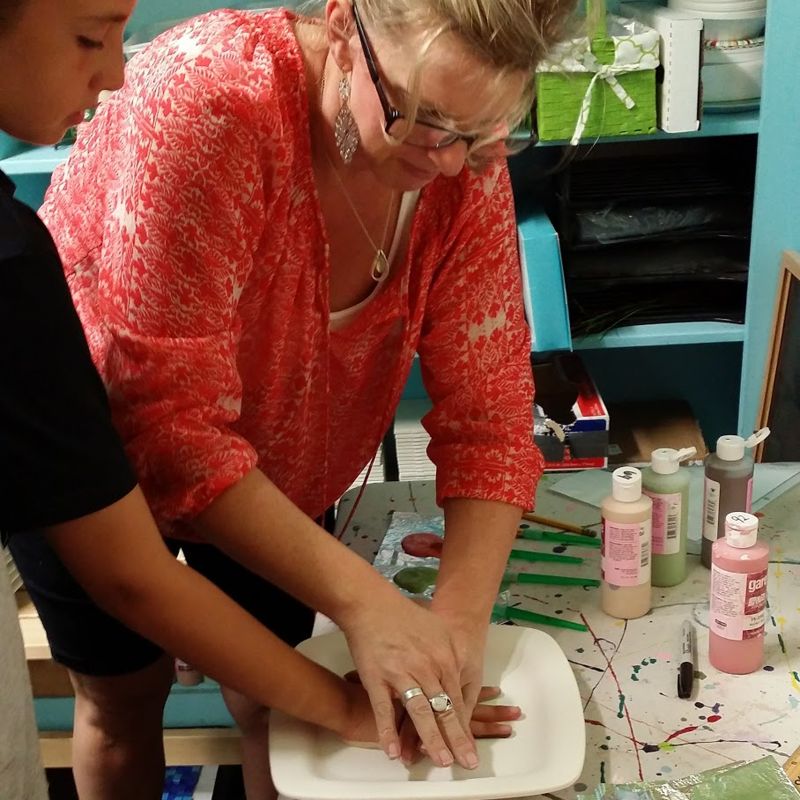 FINGERS & HANDS & FEET, OH MY!
| capture the prints now – they are only small once |
How it works
It's really quite easy & our staff loves to help – just ask! Here are a few pointers to get you started…
Footprints, verses handprints, are best for wee-little ones, typically under the age 2.
We recommend darker colors since we are only "pressing" the print once. For example, a darker pink or blue versus a pastel pink or "baby" blue.
Paint is lead-free, non-toxic and super washable, so no worries about getting paint on clothes or hands/feet.
For younger ones or multiple kiddos – it is best to come in during the week when the studio is a bit quieter. Our weekends are often full of energy and excitement and our staff may not be able to give you the full attention you deserve if you are doing multiple prints – though we will do our best!
For newborns through 12 weeks, we suggest calling the studio first to make sure we are not too busy and have someone on hand that specializes in the tiniest of tiny little ones.
Ok, so we have the foot/handprints…now what?
A few quick questions to get you to the next step:
Is your plate, platter, mug, etc going to be an everyday piece or for a certain holiday? This will help in choosing colors and designs.
What do you want to do with the print? Do you want it to be just that – a hand or footprint with a decorative edge or border? Or do you want to embellish it to turn the print into something such as a Christmas tree, snowman, ladybug, sailboat, tractor, garden and so on?
We have lots of samples and handprint/footprint books – just ask and you are welcome to breeze through them.
The internet is also a great source – check out of Pinterest Board called Pottery ~ Prints…Fingers, Hands & Feet Oh My. We have collected hundreds of ideas from our Pinterest friends.
Do you want to complete the piece or leave it for us to finish it?
You are welcome to do either and keep in mind that you can always come in, get the prints, leave and come back when you have some spare time to sit and relax and paint! No one says you have to figure everything out at once! If you have us finish your piece, whether it's a full design or just lettering, our custom artwork charges start at $25/hour.  Custom work (when we take a brush to your piece) has a 2 – 3 week turnaround time, depending on the time of year.
Custom work; when we take a brush to your piece….
By nature, we are a paint-your-own-pottery studio which means YOU paint-your-own-pottery. However, we realize that there are occasions when you may want a little (or a lot) of extra help! There are two different situations when we take a brush to your piece…
Personalization
Personalization is adding a quick name & age to your piece, typically "tucked" by a foot or handprint. The charge for this is $2/print if we are just personalizing your piece. This may add a few days to the usual turnaround time of 7 days because of the volume of requests for personalization. Additionally, this is in a "handwritten" font, nothing fancy schmancy, and under 1/2 " in height.
Customization
Customization is when WE take a brush to YOUR piece and do a little bit more than the personalization noted above. It's really a matter of what YOU are comfortable with based on your time, mood and desire to paint – or to not paint!
If you are not painting because you're intimidated by the process, please let us know! We have oodles of easy-to-do tips, tricks and techniques to assist you. That is the BEST part of our job – helping you along the painting journey. Back to customization…
We can provide full customization (for those who never want to pick up a brush) or partial customization. Customization charges are based on an hourly rate of $25. This is in addition to the piece itself and charges vary based on the amount of customization, and the time it will take to complete. Most hand/footprint pieces $37.50 for custom art charges. Wedding plates typically start around $50.
Full customization includes things like painting a monogrammed wedding platter or recreating a wedding invite on a plate. Turning a handprint into a hamburger (a great gift for Dad, btw!), footprints into a snowmen, handprints into turkeys – the ideas are endless!
Partial customization means we are putting the finishing touch to your masterpiece such as adding a decorative border. Or, in most cases, writing on your piece, Whether it be a sentiment such as "Bless this Home", "Merry Christmas", "Grandma's Angels" or a verse or phrase such as "Every good and perfect gift comes from above" James 1:17.
If you have an idea – bring a picture or a sketch, a visual will help us land on the same page with what you had in mind. We can also surf the web at Walls of Clay and brainstorm together and we have a photo album with tons of pictures as well as samples around our studio.
Please note: Saturdays and Sundays during the holiday seasons are the busiest days for us in the studio. If you need special attention such as assistance with brainstorming ideas or a bunch of hand/footprints – the weekends might not be the best time to visit our studio. Though we do understand the needs of working customers and/or busy schedules, we know the weekends might be your only chance to visit us – we will do our best to give you the attention you deserve.